Christmas in Malta
How is Christmas celebrated in Malta?
Without a doubt, many travelers tend to associate Malta with a summer destination, but visiting Malta in winter can be a very cost-effective choice and an excellent way to discover the country in a unique manner.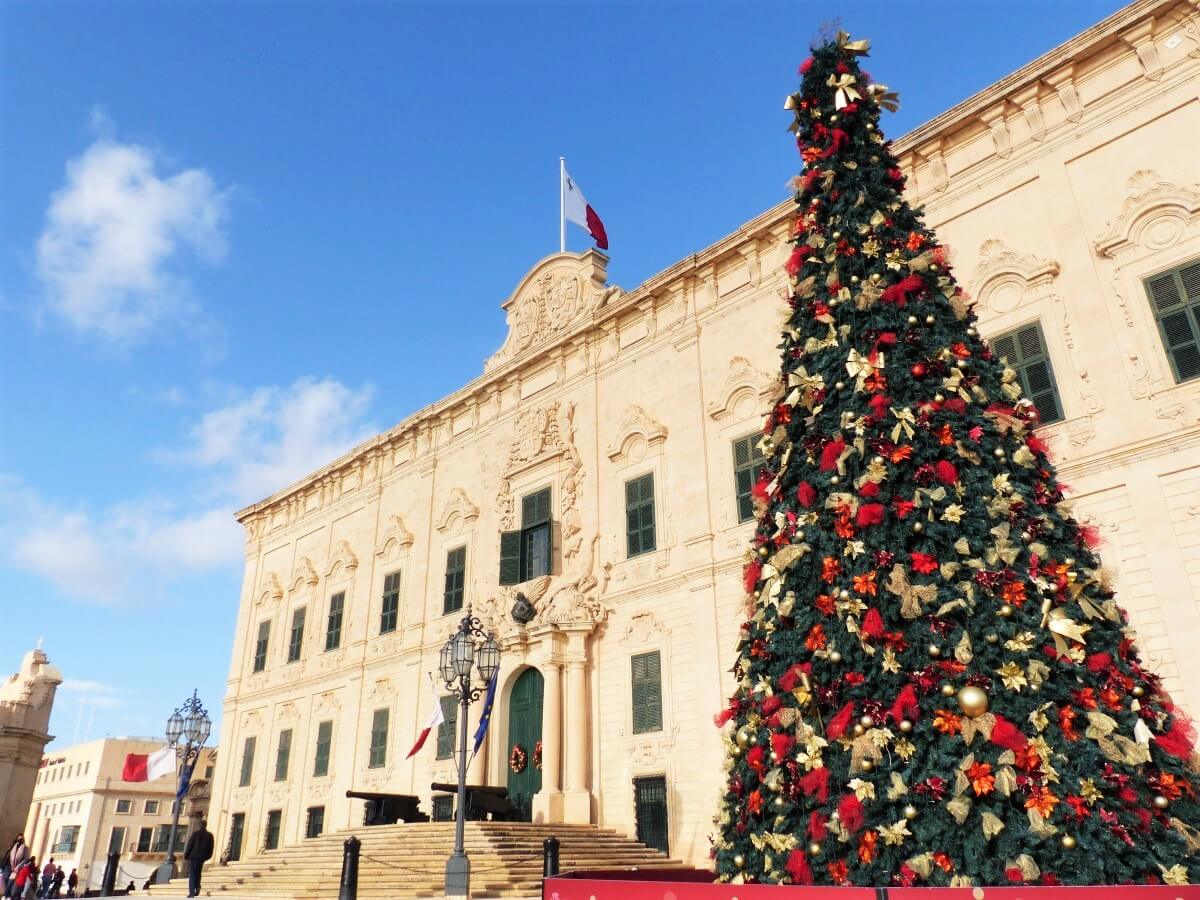 Christmas in Malta
Christmas Traditions in Malta
Malta is one of the most religious countries in Europe, and therefore, Christmas is one of the most important holidays in Malta. Preparations for the Christmas festivities start in early November, with shops decorating their storefronts and garlands and lights illuminating the streets. Many of the island's residents create nativity scenes or cribs, representing the birth of Jesus with all the characters from the Bible. Additionally, every Maltese person considers it their duty to decorate their homes in the most beautiful and creative way possible.
Christmas in Malta is bright and solemn. On December 24th, after dinner, Maltese families attend church, a deeply rooted custom in traditional homes. It's worth noting that Malta boasts the highest number of churches compared to any other European country, with a total of 365 to visit throughout the year. The density of these religious buildings is astonishing, with approximately one church for every square kilometer.
How is Christmas Celebrated in Valletta?
The most magical place to spend Christmas is the city of Valletta, the capital of Malta. Here, the holidays turn into a fairy tale. The city's streets are adorned with numerous Christmas garlands and decorations of all colors. According to tradition, a Christmas tree is set up at the city's entrance and several others along the streets.
Some of the trees are made of Maltese glass balls, handcrafted in Mdina. So, if you decide to travel to Malta, we recommend visiting this glass art village. If you're lucky, you may witness the creation of a genuine masterpiece of blown glass!
In Valletta, many Christmas cribs are set up, some of them mechanized. All children are in love with these figures, which hold deep religious significance. Additionally, the city organizes numerous concerts and processions. For more detailed information on dates and times, check the official Malta tourism website.
Christmas in Gozo
On the island of Gozo, you can also find many interesting things to do for Christmas. For example, during the months of December and January, the village of Ta 'Passi (Ta 'Passi) is created, where you can see a living nativity scene, with the participation of all the local residents, from babies to the elderly. For complete authenticity in the manger, you can see the little baby Jesus sleeping peacefully.
Local taverns offer you the opportunity to enjoy authentic local and international dishes. What is truly impressive is the dedication of all participants, who dress in period costumes and pay meticulous attention to every detail, even the smallest ones. In this village, you can immerse yourself completely in the past, as you'll find a bakery, a market, a blacksmith, a tavern, craft shops, and even a sewing workshop: all typical professions of that era come to life. Furthermore, the landscape is filled with the presence of animals such as horses, cows, goats, ducks, and more.
Maltese Christmas Menu
In Malta, during the Christmas season, traditional families typically prepare a delicious roast turkey as the main dish. The turkey stuffing may include pork, nuts, almonds, raisins, and a mixture of aromatic spices. For dessert, the Maltese enjoy a variety of Christmas sweets, such as "Qagħaq tal-Għasel" (honey-filled pastries) and "Helwa tat-Tork" (a sweet made of almonds and sesame covered in honey). Christmas in Malta is an important celebration where families gather for dinner together, or in some cases, opt to dine at local restaurants to celebrate the festive season.
Winter Weather in Malta
Perhaps the most important question when planning a trip to Malta is, "What's the weather like in Malta during winter?" In Malta, winter is much more tolerable compared to the rest of Europe. While temperatures can drop to around 2 degrees, it is not common. Typically, temperatures range between 9 and 12 degrees, but due to high humidity, it can feel colder. So, don't forget to bring a jacket and an umbrella, as heavy rain can sometimes lead to flooding in certain areas.
How is Christmas Eve and New Year's Eve celebrated in Malta?
Christmas Eve in Malta starts with the Midnight Mass, a religious celebration that takes place in churches across the island. The churches are decorated with beautiful nativity scenes and festive lights, and attending the Mass is an important tradition for many Maltese families.
New Year's Eve in Malta is celebrated with stunning fireworks displays. The major cities and towns on the island organize fireworks exhibitions to welcome the New Year. The most famous of these is the display in Valletta, the capital of Malta. Many people choose to attend private parties, nightclub events, or special dinners to ring in the New Year. The festive atmosphere is everywhere, with music, dancing, and fun well into the early hours of the morning.
Christmas Events in Malta
Three Kings in Xaghra
In Gozo, the Epiphany of the Three Kings is celebrated, personifying the journey undertaken by Mary, Baby Jesus, Joseph, and the kings since 2010. The offerings are delivered in the end at the Nativity Basilica in our lady.
Christmas Market at Pjazza Tignè, Valletta
Here, you'll find everything related to the season, including items, Sicilian chocolates, bagels, muffins, and mulled wine. You'll catch the Maltese Christmas spirit at this market, which opens from December 1st to the 27th, from 5 pm to 9 pm on weekdays and from 10 am to 10 pm on weekends and holidays.
Christmas Market in Rabat
Here, you can enjoy theatrical performances, Christmas gifts, local and international cuisine at their wooden stalls from December 7th to the 13th.
Christmas Craft Fair by Thrivers Malta
It takes place on December 14th at Spinola Park, St. Julian's. It's a craft fair featuring handmade items with recyclable materials, do-it-yourself workshops, and typical Christmas cuisine.
Children's Procession in Honor of Baby Jesus
In this typical Maltese custom, held on the morning of December 25th after receiving gifts from Santa Claus, children dress up as biblical characters and walk to the church.
International Christmas Festival in Valletta
It's held with local and folk bands welcoming Christmas. You can enjoy the carol concert and the Eco Christmas Market, taking place on December 21st and 22nd, where you'll find environmentally crafted and specially designed crafts for a unique gift.
The Grand Living Nativity in Gozo
Located in Ta`Passi next to the main square, it recreates the environment of the time, made by volunteers and open every evening. The Living Nativity is a live representation of the birth of Jesus, with actors dressed in period costumes and scenery that recreates life in the village of Bethlehem. This experience is unique and touching, as it transports you directly to the Nativity period.
Magical Christmas Concert
A warm and charming Christmas celebration in December 2023 at the Sir Temi Zammit Hall, University of Malta (From December 7, 2023, to December 10, 2023, from 7:45 pm to 9:15 pm, Sir Temi Zammit Hall, Msida, Malta). This festive event, presented by the National Children's Choir of Malta and featuring special guests, promises an unforgettable musical journey for all families and more. Immerse yourself in the magic of Christmas as we take you on a musical adventure through 100 years of Disney's most beloved and cherished moments.
Frequently Asked Questions about Christmas in Malta
(FAQ)
Where is the best place to celebrate Christmas in Malta?
The most magical place to spend Christmas is the city of Valletta, the capital of Malta. The city organizes numerous concerts and processions. For the most detailed information on dates and times, check the official tourism website of Malta.
Is it interesting to travel to Malta in winter?
During this month in Malta, you will find a wide variety of Christmas activities. All the houses, shops, and streets in Malta will be decorated with garlands and Christmas trees. Many of the island's residents create Nativity scenes or nativity scenes, depicting the birth of Jesus Christ with all the characters from the Bible. The island becomes a fairy tale. Visiting Malta in winter is a very economical trip and an excellent idea to discover the country in a different way.