Transport in Malta
How to get around Malta?
Your arrival in Malta is nearing, so you're probably wondering what type of transport you should use once you're on the island. Don't worry, there are plenty of options, and the island is very small, 27km at its longest point, so it should be fairly easy to get from one point to another in the archipelago.
Getting around Malta by bus
The bus is the cheapest way to get around the island. Maltese buses are also the only means of public transport in Malta, there is no metro or tramway on the island.
A standard bus ticket costs 1.5 euros, 2 euros in summer and 3 euros for the night bus. Remember to bring extra change – drivers don't always have change for 10 or 20 euro tickets.
From Malta International Airport, you can reach any city, Malta's bus network allows you to reach all four corners of the island. The bus stops are located in front of the departure terminal of the airport, you can buy tickets directly from the bus driver or from the ticket machine in front of the bus stop.
For travellers planning a longer stay, it may be worth ordering a Bus Malta (Tallinja) card. It allows you to halve the price of bus tickets. You can apply for the Tallinja card on the Malta Public Transport.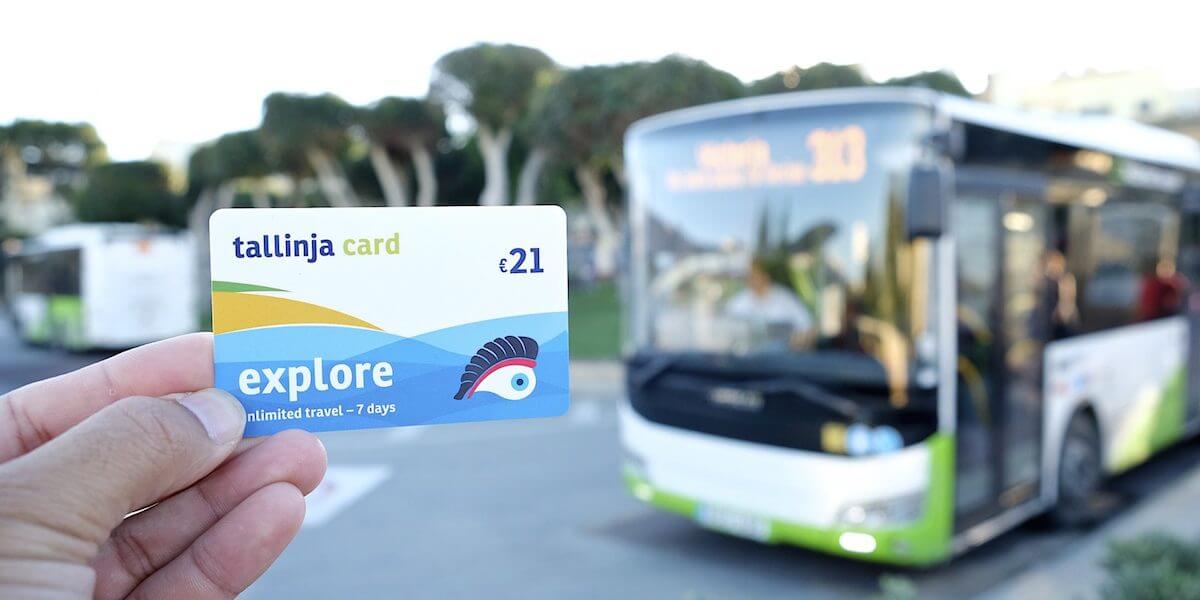 eCabs, The Taxi Option in Malta (Uber or Kabbee)
eCabs recognisable by its fleet of black vehicles, is a transport company privately owned in Malta. eCabs is the ideal solution if you need to book transport in Malta. Whether it is a pre-booking or a last minute booking, eCabs is the ideal solution.
Using the eCabs application is a guarantee of professional, punctual drivers and comfortable cars. eCabs also offers vehicles suitable for people with reduced mobility, pet-friendly cars and vans for groups or large families.
eCabs transport offers both the security of advance booking and last minute booking.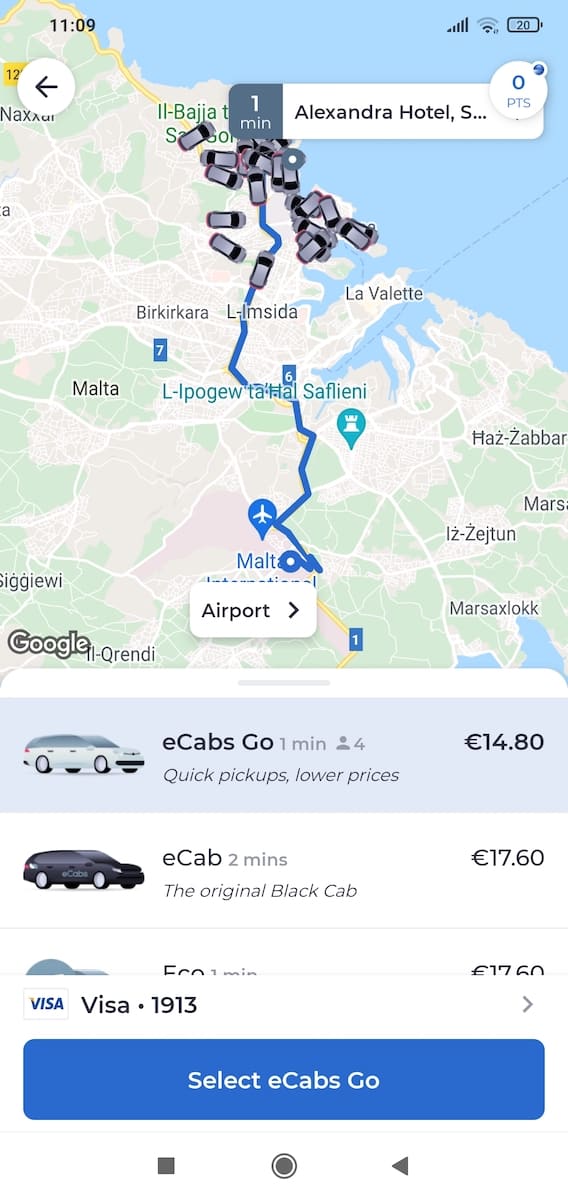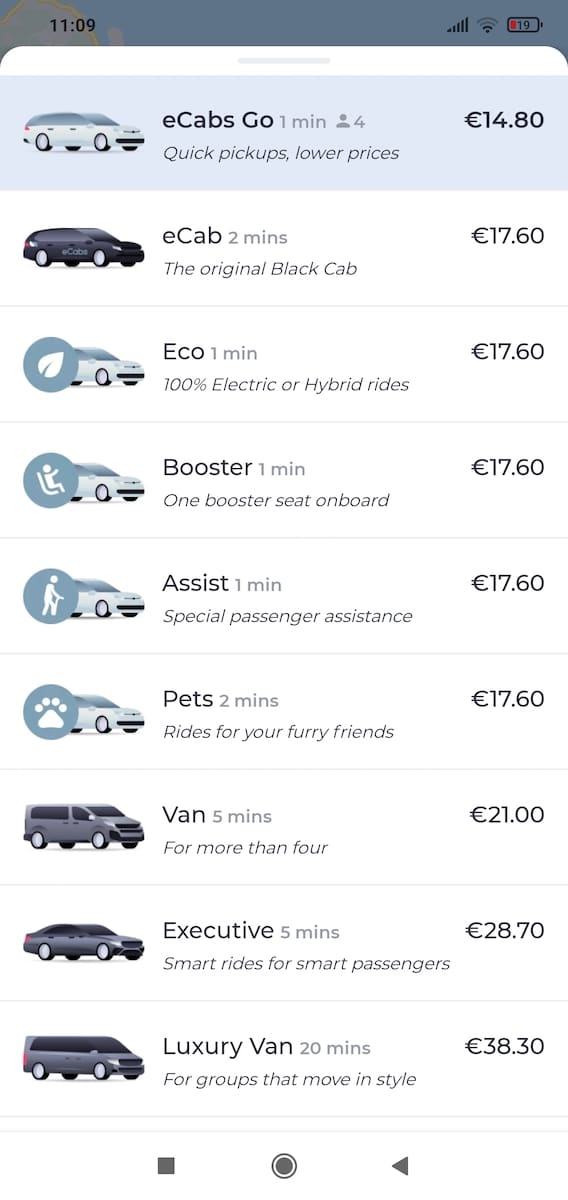 Bolt, another app to book your taxi
The Bolt is a very popular transport in Malta and probably the fastest way to get around the island. It is particularly preferable if you are travelling in a group.The Bolt is little known in other countries, but in the absence of Uber, it is the perfect taxi solution.
Simple, fast and economical, Bolt works with an application that geolocates you and proposes drivers who are nearby and immediately available. Fares are significantly cheaper than a traditional taxi. The cost of a transfer between Luqa airport and the cities of Sliema/St Julians is usually around 13 euros.
Another advantage of Bolt is that the price of the trip is pre-defined by the application, so there are no unpleasant surprises on arrival.
Bolt also offers an electric scooter rental service. This is a self-service service and is available in Malta's main cities (Valletta, Sliema, St. Julian's, etc.) You simply scan the scooter's code with the same app and you're ready to go.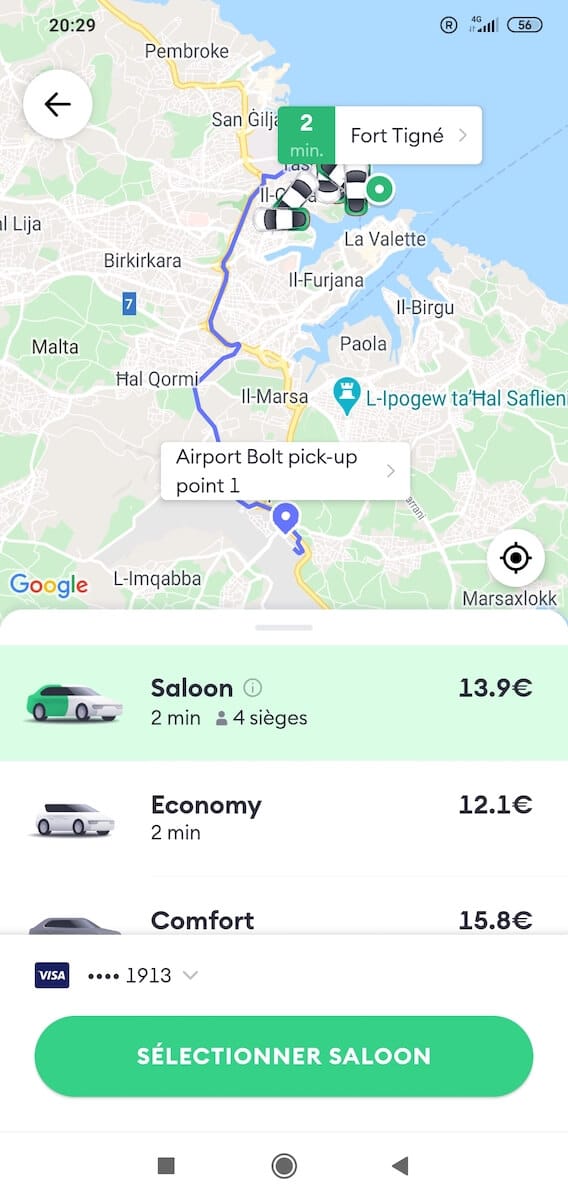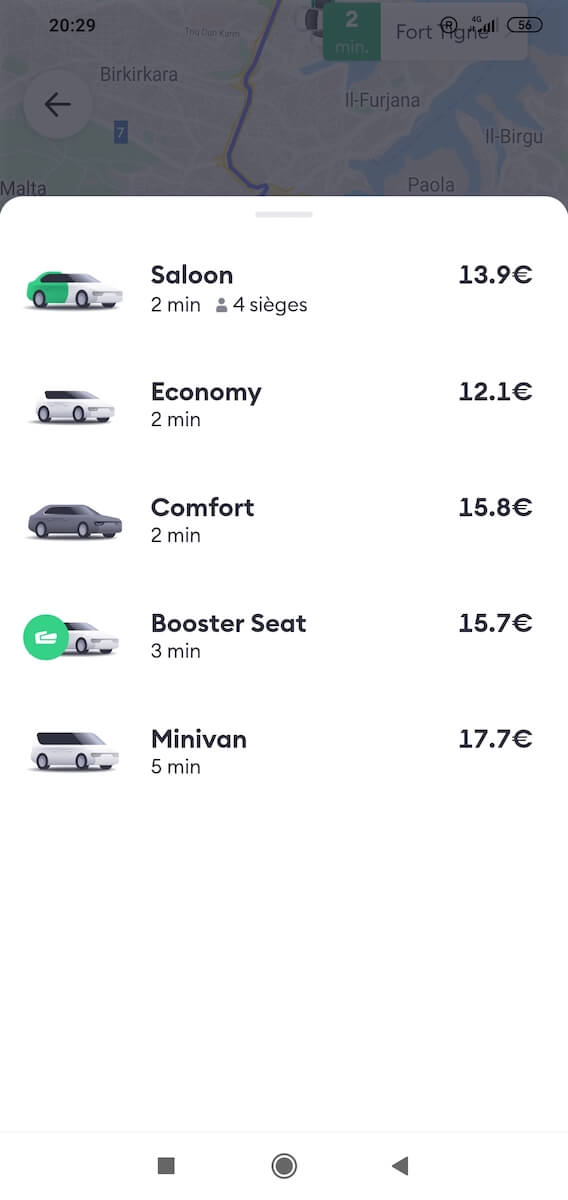 Car rental, to explore the archipelago freely
Renting a car in Malta is certainly the solution that offers the most freedom and flexibility to explore the archipelago. Here are a few things you should know before setting out on Malta's roads.
In Malta, cars drive on the left side of the road, so the steering wheel is placed on the right side of the car.
Traffic is quite heavy on the island.
Maltese drivers drive fast
The island is dusty, especially during the summer months, so cleaning of the exterior bodywork should be anticipated.
Renting a car in Malta usually costs between 70 and 150 € per week. Many car rental companies are present at Malta airport: Europcar, Goldcar, First, Avis, FireFly, Hertz, Sixt, etc. The companies' counters are located in the airport under the sign Rental Car Desk. We advise you to use Rentalcars to get the best rental deals and an additional rental guarantee.
Cool Ride Pooling, the shared transport solution in Malta
Cool Ride Pooling is a new commuting solution in Malta. It is a shared VTC system. Several passengers share the same vehicle with a driver in order to reduce transport costs. In general, the price of a normal trip is 5 euros.
The solution works very well on the island and there are almost 3,000 pick-up points available. A system that is very practical and economical, during the day the pick-up time is usually less than 10 minutes.
It may happen that the driver makes small detours to pick up other passengers, or you may find yourself alone for the whole journey, every journey is unique. Transfers to and from the airport work very well with this app.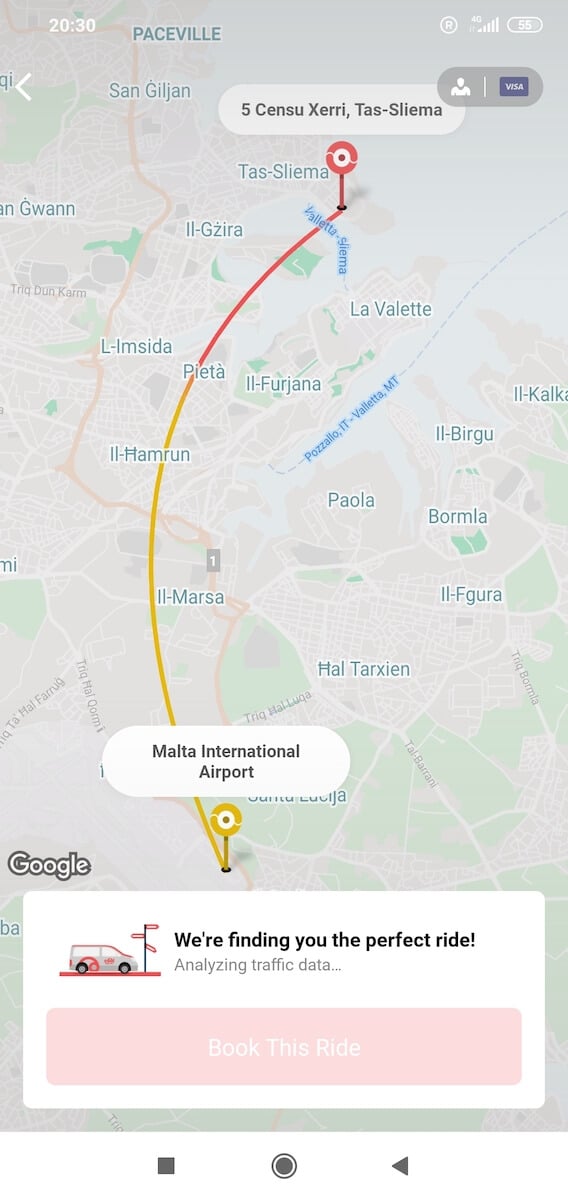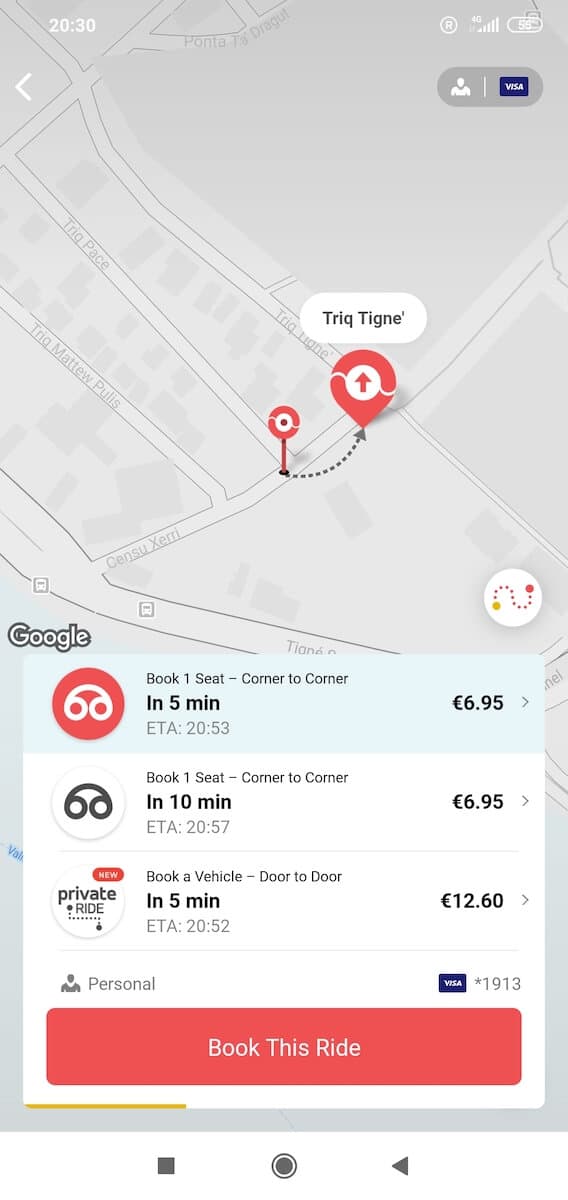 WhizaScoot, the self-service scooter rental in Malta
Renting self-service scooters in Malta has never been easier. WhizaScoot is a new service available and is becoming increasingly popular. A simple and convenient solution for travelling on two wheels.
The Whizascoot app allows you to share scooters in Malta and Gozo. Just register on the app, take a photo of your driving licence and within minutes you can have access to scooters in the surrounding area.
The price is affordable, with a parking fee of 15 cents and a usage fee of 21 cents. Another plus point is that the scooters are electric, a small gesture in favour of the environment and pollution in Malta.
The White Taxis of Malta
Malta's famous "white" taxis are mainly available in high-density areas: airport, Paceville district, Sliema ferry, Buġibba square, etc. Of all the transport in Malta, this is the least recommended. They are very expensive and not necessarily the most customer-friendly. White taxis also do not use a meter, so always fix the fare before getting into a taxi.
Frequently Asked Questions – Transport in Malta
(FAQ)
Is there a metro or tramway in Malta?
There are currently no metro or tram lines in the Maltese archipelago.
How to get a Cool Malta discount code?
When you sign up for the first time for the Cool transport service, you can use the code maltadvice7p3 to get 10 euros for free.
How to get a eCab Malta discount code?
When you first sign up for eCabs transport service, you can use the code AYSL85FV to get 5 euros for free.
Is it possible to get around Malta by bicycle?
It is possible to travel by bicycle in Malta, however, cycling is not recommended as a means of transport. Traffic in Malta is heavy, cars drive fast and there are no bicycle lanes. Cycling in Malta is therefore very dangerous. Bicycle rental companies are also not very popular on the island, which makes it difficult to rent bicycles. As a result, it is preferable to use Malta's public transport or walk for the more active.