TOP 11 tips before you travel to Malta
The Maltese archipelago is a fashionable destination that attracts more and more curious visitors. With the sun, the sea and a rich cultural heritage, it attracts almost 2.5 million travellers every year. If you too are planning a trip to Malta, follow our recommendations for a successful stay.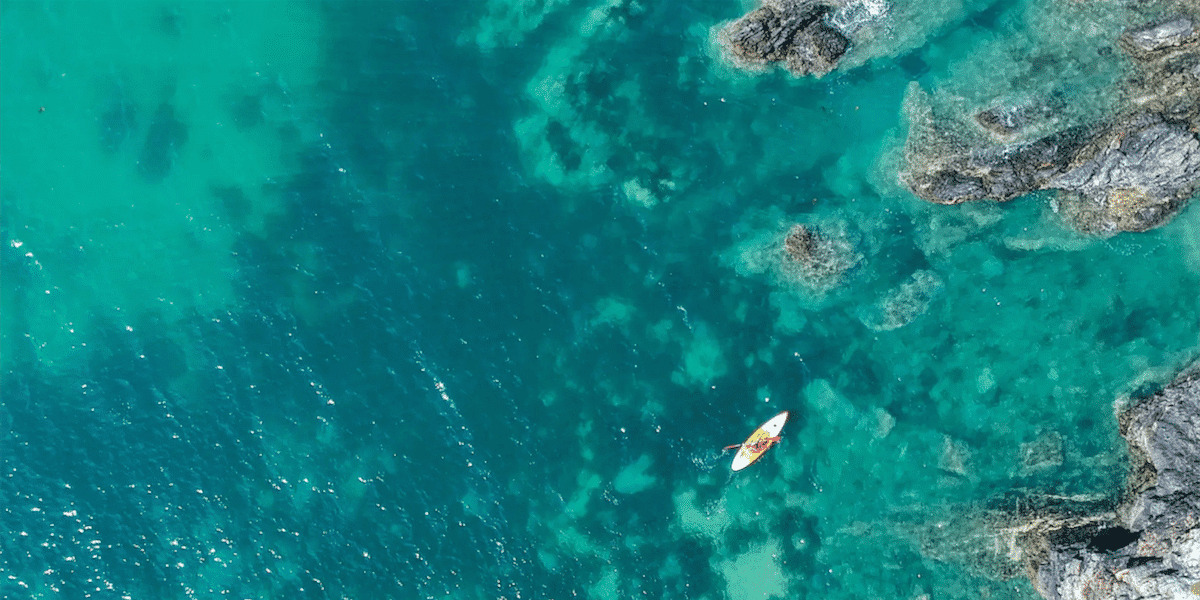 #1 Apply for a European Health Insurance Card before you travel to Malta
The archipelago of Malta is part of the European Union. You can therefore benefit from the European social security system when travelling to Malta. Remember to apply for an EHIC at least 15 days before your departure.
The European Health Insurance Card is free of charge and allows 100% coverage in case of hospitalisation, without having to pay any upfront fees. The card is also available for young people and children who are still linked to their parents' account. A precaution that is often forgotten by travellers.
#2 Use an online platform to book accommodation
Book a hotel in Malta
Maltese hoteliers surprisingly always offer prices higher than those available on online booking sites.
One of the reasons is that many hotel rooms are pre-booked by tour operators at wholesale prices and then resold.
Using online platforms also offers added security and guarantees. The burden of endless discussions will fall on your booking platform in the event of a problem.
Rent a flat in Malta
In Malta, be particularly cautious when booking an apartment or house. In general, it is not recommended to book an apartment directly from an owner without visiting it beforehand. For short-term rentals, for safety reasons, prefer vrbo or possibly Airbnb; this will help you avoid unpleasant surprises.
Property owners in Malta do not have a very good reputation, as some tend to withhold deposits. In the rush of departure and with the urgency of the return flight, tourists often find themselves having to forfeit their deposits in case of incidents.
Accommodation during an English course
If you are thinking of joining the 80,000 students who come to learn English at one of Malta's English language schools each year, please contact our team directly.
Our team of professionals will help you find a school, accommodation and plan your language stay. We will also provide you with support in case of any problems.
#3 Avoid spending money unnecessarily
Cards and bank charges in Malta
Before you travel to Malta, we advise you to apply for a bank card with free payments and withdrawals abroad. There are free cards from N26 bank that are ideal for travelling.
Once in Malta, always withdraw money from HSBC or BOV (Bank of Valletta) ATMs to avoid withdrawal fees. You'll see many small ATMs all over the island or in hotel halls. Be careful if you use them, as they will cost you 3-5% of the transaction fee.
We highly recommend downloading the Revolut application. The payment app is very popular on Malta, it is free and allows both payments at merchants on the island, currency exchange and instant transfers between individuals.
Prices shown and prices paid
Whether in small shops or large supermarkets in Malta (Welbee's Supermarket , Lidl, Scotts, Greens, etc.), remember to check your tickets. The prices shown on the shelves are not always what you pay at the checkout.
Some displayed prices are not always up to date, promotions are not always effective, labels are sometimes mixed up, etc. To avoid unpleasant surprises, always look at your receipt directly after you have paid.
Exchange for small purchases
When travelling in the Maltese archipelago, always try to have between 5 and 10 euros in change. Sometimes the change given back when you shop is approximate or you simply don't get change if you don't have a rounded account.
When buying a bus ticket, a Pastizzi or a bottle of water around the corner, always try to have exact payment. You should also be aware that some shopkeepers or bus drivers do not always accept billets.
#4 Travel to Malta equipped before departure
The necessary accessories
There's not much to pack before you travel to Malta. However, you will need to protect yourself from the sun and equip yourself properly. Malta is a country with British-style power sockets on the same standard as in the UK. We advise you to pack the following items so you won't be short of anything when you arrive:
A pair of sunglasses
Sunscreen 30+ / 50+ (at any time of the year)
Something to cover your head (cap, hat, etc.)
If you forget, don't worry, all these accessories are available in most supermarkets in the archipelago.
What to pack for Malta?
Travelling to Malta means going to a warm and sunny country. If you go between May and September, don't overdo it – it'll be hot and you'll be in shorts (or dresses) all the time, even at night.
From October to April, temperatures in Malta drop, but rarely fall below 10°C. There is no need to over-equip, as you won't find snow or extreme cold.
However, the island nation is quite windy during the winter and particularly prone to sea storms. So if you're planning to stay in the winter months, bring a jacket with a hood, and a hat if you have sensitive ears.
For the more sporty, there is now a decathlon in Malta, so it is possible to buy everything you need.
#5 Plan your visits and activities in advance
Whether you are discovering Malta for a weekend or for a stay of several weeks, it is highly recommended to anticipate and plan your visits and activities, so as not to miss anything and not to be caught off guard.
Malta is full of places to discover: The Blue Lagoon, Valletta, Mdina, Gozo, etc. And although the island is small, road and water transport (Cirkewwa Ferry Terminal) can be time consuming.
Some of Malta's must-do activities are also overcrowded with tourists during the high season and sometimes sell out.
We advise you to use Get Your Guide or Viator to schedule your activities in advance, especially water activities and guided tours. Also try to book in advance your tickets (museums, temples, boats) to avoid bad surprises.
Don't hesitate to go off the beaten track and choose the off-peak hours (early morning) to avoid large groups of visitors and discover the authentic Malta.
#6 Choose bus, eCabs, Uber or Bolt to get around the island
To get around the island during your holiday in Malta, we recommend that you opt for the bus service (public transport in Malta), the cheapest way to get around the archipelago. If you're staying for a few weeks, you may also want to apply for a Tallinja Card.
We also recommend eCabs, Uber or Bolt.
To use eCabs, Bolt and Uber taxis you need to download an app on your phone. Ryde, Bolt are the two fastest options that allow you to get a car with driver in less than 5 minutes anywhere on the island and with cheaper fares than conventional taxis.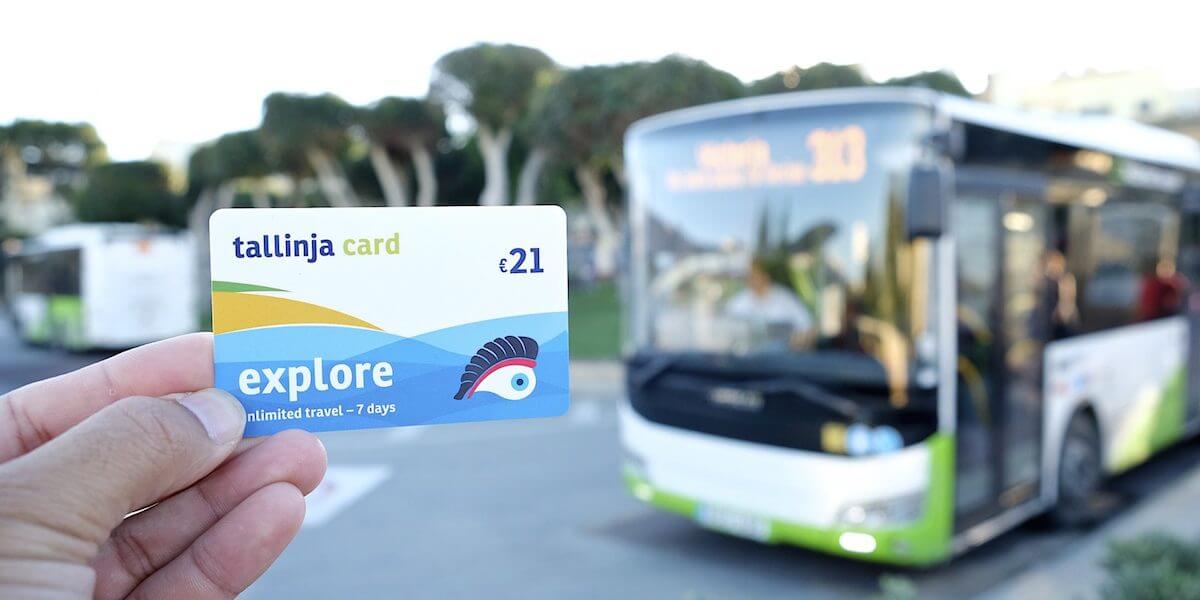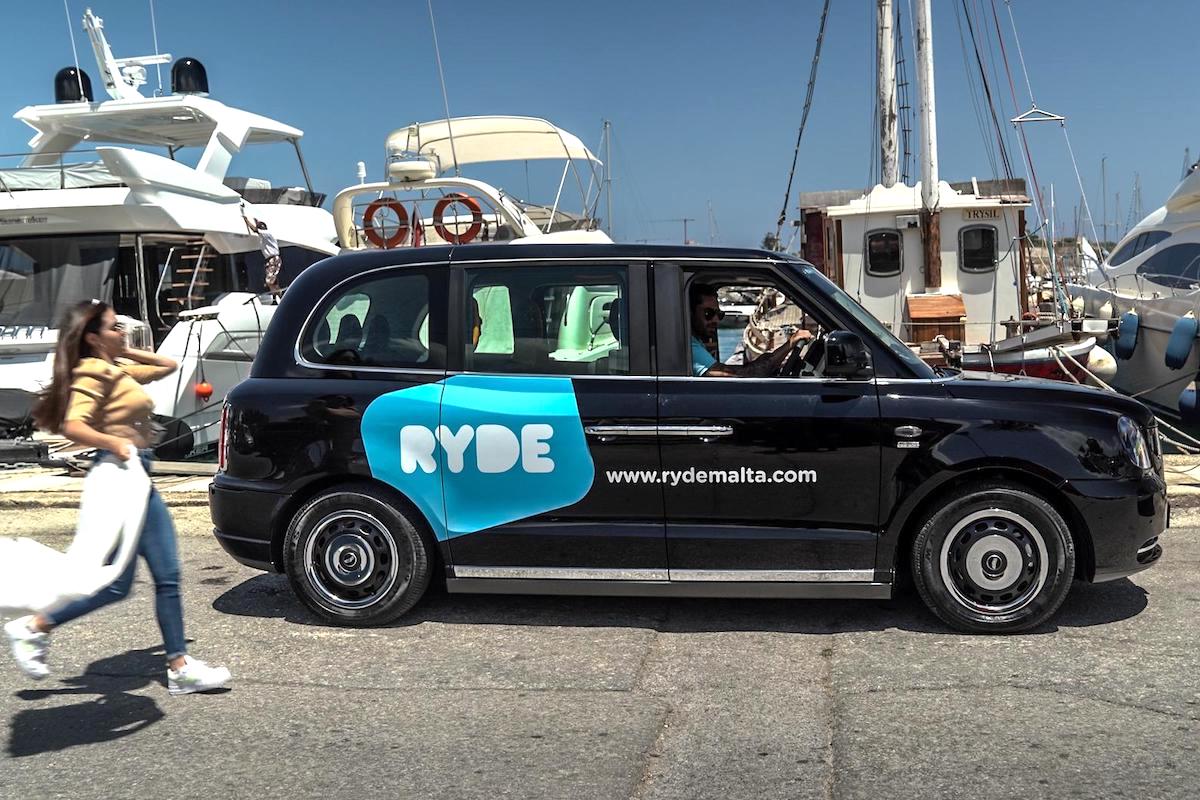 We do not recommend using the services of white taxis. You'll see them parked in the most touristy places, they're more expensive than eCabs drivers, and they're often rude with travellers.
Although it is not recommended, if you nevertheless have to use the services of white taxis, always remember to set the rate in advance, otherwise the driver will set the rate according to his own criteria.
#7 Protecting yourself from the sun in Malta
Malta's climate is one of the archipelago's greatest assets, but beware of the Maltese sun. The UV index is high, especially during June, July, August and September. It can easily reach a score of 9 or 10.
Prepare yourself adequately: sunglasses, sunscreen index 50, hats, etc. Protect yourself as much as possible, the health of your skin will thank you for it. Pay extra attention to the protection of children and adolescents. They are more sensitive to the effects of the sun (sunburn) and less aware of the danger it represents.
#8 Don't drink tap water
Tap water in Malta is "half-drinking". It does not contain bacteria, but is partly produced by a desalination process. Seawater is desalinated and then purified, resulting in water that tastes bad and is indigestible because it is highly chlorinated. It can be used without the slightest precaution for washing (showering and brushing teeth); however, it is recommended to drink only bottled water on the island.
Still and Natural Water
In Malta, most of the water found in the shops is "Still Water" or "Table Water", i.e. still water, but not mineral water, following the example of brands such as San Michel, Kristal or Fontana. The water contains very few minerals and, in particular, almost no calcium.
The mineral water is sold as "Natural Water", which is much more expensive. The main brands of mineral water available in shops are Rocchetta, San Benedetto, Acqua Panna and Sant Anna.
#9 Be careful in the nightlife areas of Paceville and Buġibba
Malta is one of the safest countries in Europe. Malta is a country with a high level of security, with a score of 80.7 (source: ). The island state ranks 18th in the world in terms of safety, well ahead of other major European countries such as France (32nd), Belgium (26th) and the UK (29th). However, it is important to be vigilant in crowded areas of the island to avoid the unexpected.
Paceville is Malta's nightlife district. It is usually a must-visit for young people between 17 (legal drinking age in Malta) and 35. So be careful, because there are a lot of stories in Paceville! Buġibba is also known to have had several incidents in the past few years.
The promiscuity, alcohol and deafening music make it a playground for pickpockets and opportunists of all kinds. Always check the amount at the payment terminal if you have to pay by card. It is best to avoid carrying your bank card. Also keep an eye on your phone and avoid putting it on the table or counter.
#10 Pay attention to the instructions associated with the bathing flags
The island of Malta, bordered by the Mediterranean Sea, is an exceptional destination for enjoying the sea, swimming and water activities. To avoid unpleasant surprises during your stay, take note of the instructions indicated by the flags. To be on the safe side, follow the golden rule of swimming when the green flag and the red and yellow flags are raised.
What the colour of the flags on Malta's beaches mean
The Red and Yellow Flags
The red and yellow flag indicates a supervised swimming area. Lifeguards are present to guard the beach. Therefore, the beaches and swimming areas are preferable for families.
The Green Flag
The green flag informs that the bathing area is particularly safe. The water is calm and safe.
The Yellow Flag
The yellow flag informs that the swimming risk is moderate. It is still possible to go swimming, but be careful with the waves and the current.
The Red Flag
The red flag indicates a high risk associated with swimming or water activities. There are waves or strong currents. Try to find a more sheltered beach.
The Purple Flag
The purple flag indicates the presence of dangerous marine animals. The most frequent case is the presence of jellyfish. They are often very stinging and can spoil your stay in Malta.
Do not swim when the purple flag is raised. Stings from some jellyfish (Mauve stinger, Portuguese Man-O-War, Moon jellyfish, etc.) are very painful and can leave burn marks for several months.
The Double Red Flag
Swimming is strictly forbidden and the beach is closed to the public. In general, you will see the double red flag in case of water pollution. For example, this can happen after heavy rains, as the water runs through the island's towns before reaching the nearby bays.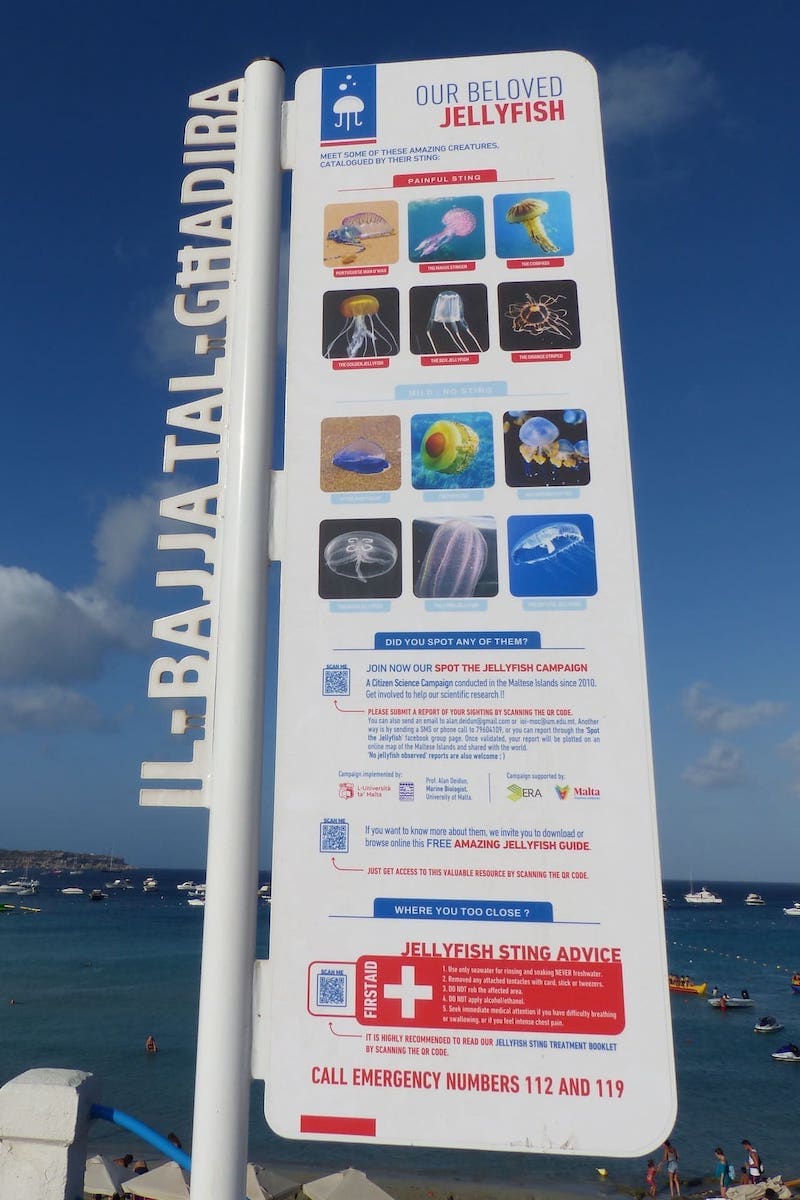 #11 Respect local customs and habits
When travelling abroad, try to respect local customs and maintain decent behaviour.
Travel to Malta is often synonymous with a long-awaited and well-deserved holiday. Holidays that sometimes turn into a form of 'neglect' for some travellers. Being abroad may give the illusion of impunity, but the reality in Malta is very different and the Maltese authorities are intransigent.
For a trip to Malta to be successful, you simply have to adopt decent behaviour. Be polite, be patient, don't throw your rubbish on the floor, avoid shades of sound, etc. Behaviour that is simply common sense or good manners. Remember also that the small island nation is very Catholic, so avoid behaviour that may offend Christian morality, at the risk of attracting the ire of the neighbours.
Frequently asked questions – Travel to Malta
Is it possible to drink tap water in Malta?
The tap water is safe to drink, free of bacteria, but it tastes bad and is highly chlorinated, which makes it indigestible. It is therefore advisable to drink only bottled water during your trip to Malta.
Is it dangerous to travel to Malta?
Malta is a very safe country. Major crime rates are lower in Malta than in most European countries. In particular, Malta has a higher safety rating than France, Spain, the United Kingdom, Italy or Australia. There are no areas where travellers are not allowed to travel in Malta. However, be vigilant in the nightlife district of Paceville, where alcohol and parties sometimes attract pickpockets and opportunists.
Are there jellyfish in Malta?
The Maltese archipelago experiences the arrival of jellyfish from time to time. Some of them, such as the Mauve Stinger, the Box jellyfish or the Portuguese Man O' War can be very painful and cause severe burns. Dangerous jellyfish are indicated by the presence of a purple flag. Therefore, if you plan to travel to Malta, it is important that you follow the bathing instructions at the first aid stations for a successful trip.
Is topless allowed in Malta?
If you are a woman and plan to travel to Malta, be aware that toplessness or not wearing the top part of a swimming costume is forbidden in Malta and is frowned upon by the locals.
What is the legal drinking age in Malta?
The legal drinking age in Malta is 17. Since identity checks are not systematic, it is still common for adolescents to have access to alcohol before the legal age.